Goro ought to be here anytime now. While waiting, I sampled some ramen from other spots around Houston. In July 2011, the Modular food truck and Soma, the Japanese restaurant on Washington had a ramen throw-down. Some might say Soma chef Jason Hauk cheated by serving foie gras ramen with black truffles, but I say all's fair in a ramen war. Hauk also served seafood ramen. Chef Hauk left Soma for greener pastures not long after the ramen battle, but Soma's menu still features two seafood ramens.
The "Kaisen ramen" served at lunch starts with a bisque base–I am sure a sushi bar has plenty of quality fish scraps for this purpose. The other ingredients besides noodles include coconut, corn, rock shrimp, bay scallops, lumb crab, the sweet seaweed called wakame and a lot chewy mushrooms. The soup has a delightfully powerful marine aroma with plenty of earthy mushroom scents and something a touch smoky. About halfway through the bowl, I added some Japanese togarashi (red pepper) powder because I am flawed that way. For $11, it was helluva lunch. The $17 "Seafood ramen" served for dinner at Soma is more of a ramen "boullabaisse" with U-10 scallops and mussels.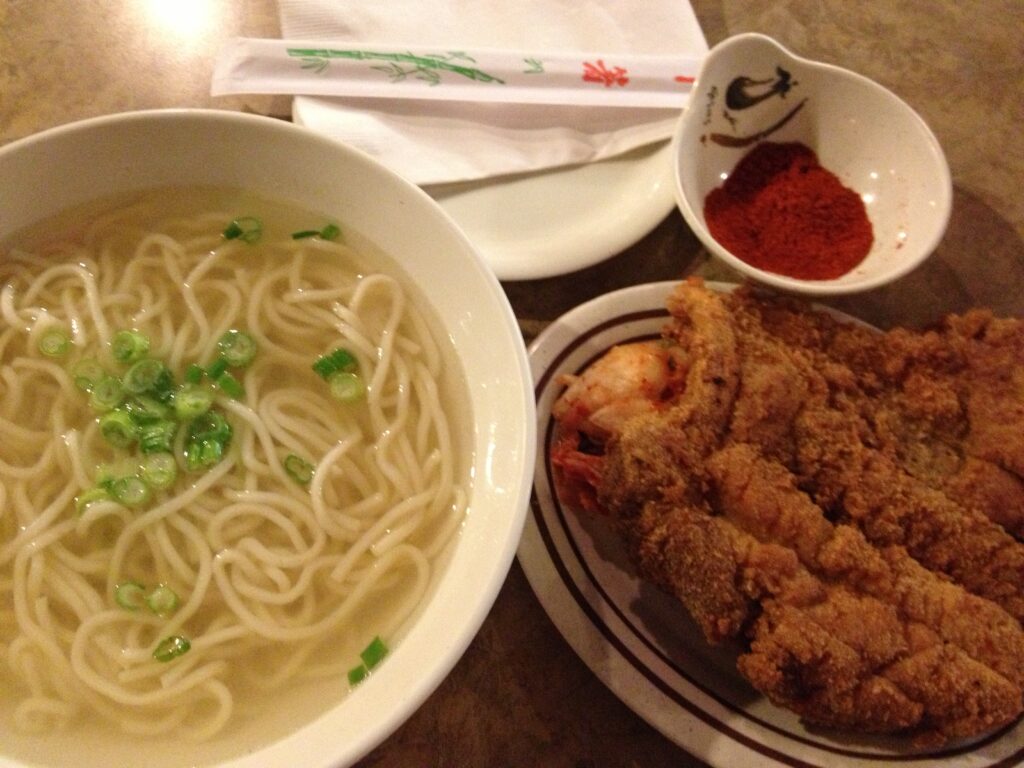 My curiosity about tonkatsu (pork chop) ramen led me to make the horrible mistake of ordering the spicy ramen with pork chops and kimchi at the frequently panned pan-Asian House of Bowls on Corporate. What I got was a bowl of overcooked spaghetti noodles in a bowl of broth that tasted like Campbell's chicken noodle with a pork chop and some kimchi on the side. When I asked why it was called "spicy ramen" I was given a bowl of chile powder to make it "as spicy as I liked."
I have had instant ramen from a plastic package that tasted better than this one.
A Japanese ramen shop owner talks about his life in the noodle trade: